We are proud to announce the release of CubeBackup version 2.6.  If you are using an old version of CubeBackup, you may have already received a prompt to upgrade. You can easily upgrade to the new version at any time by using the "Check for update" feature.
New features in CubeBackup 2.6
Support for secondary domains and domain aliases.
As a Google Apps administrator, you may manage one primary domain along with one or more secondary domains.  CubeBackup 2.6 makes it convenient to manage all backup users in one place, whether they are in a primary domain or secondary domain. Domain aliases are also well supported in the new version.   For example,  in the user management window, domain administrators can manage all users in one list, including user1@primary.com, user2@secondary.com  and  user3@alias.com.
Support multiple primary domains.
If you are a Google Apps partner or reseller, you may manage several Google Apps domains for your clients. The new version of CubeBackup allows you to backup multiple domains in one application.
Option to back up "Shared with me" files in Google Drive.
Old versions of CubeBackup always back up shared files by default, with no way to disable the feature. For some Google Apps domains, it may cause considerable data duplication and backups could potentially grow to unmanageable sizes. The new version allows you to choose whether or not to backup these shared files.
Option to backup "All mail" messages
The domain administrator now can choose whether or not to backup the "All mail" folder/label in Gmail.  Generally, if messages in "All Mail" folder are duplicates which already exist under other folders/labels, including them again would be a waste of time and space.  However, if the "All mail" folder is used to archive mail messages, while the "Inbox" or other labels are reserved for active messages,  the "All mail" option should, of course, be used.
Database performance tuning
SQLite database is used in CubeBackup to record the backup metadata. Performance and transactional security are both improved in the new version.
A number of bugs have been fixed in the new version.
How to fetch users in secondary domains after the update?
Because secondary domain users were not visible in previous versions of CubeBackup, you need to refresh the user list in order to fetch the users in secondary domains (or domain alias) after the upgrade.
Open the menu item "Settings" -> "User management" , and click the Refresh button. All users, in both primary or secondary domains, will now show up in the users list.  Click the Save button to save all the settings.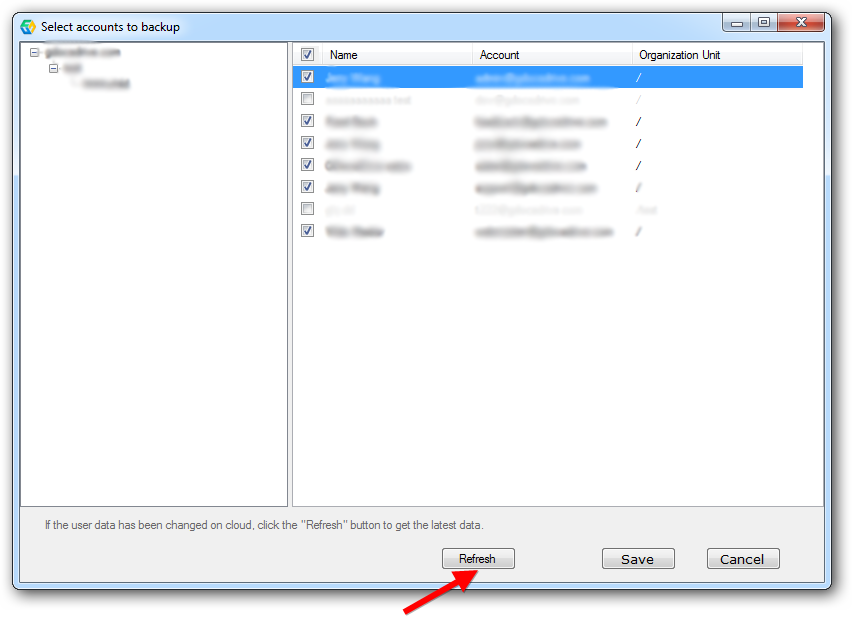 From time to time, we receive emails from our customers asking new features. Thank you for all of your suggestions and feedbacks!   The most commonly asked question is:
What to expect in the future versions?
This will be the most important feature in the next version of CubeBackup.   Parallel backup for multiple users can greatly accelerate backup speeds and should be available soon.
Google site data backup will also be added in future versions.
Restore backup data to another account
Restoring data to another account can be very useful in some circumstance. Look for this feature in future versions
CubeBackup for Linux will be a service without UI,  and we are confident that Linux administrators will love it! Most features in the Linux version will be almost identical to those in the Windows version.