How do I recover my CubeBackup account when locked out of the web console?
---
If you have forgotten the admin account for the CubeBackup web console or signed in and got an error message, please do not panic. CubeBackup offers effective solutions to assist you with regaining access to the CubeBackup console.
Tip: The CubeBackup admin account is the one you created during the initial configuration and not necessarily the administrator of your Google Workspace domain. That is, it could be any account, even a personal Gmail account.
Solution 1: Reset your password
If you have forgotten your password, you can click the Forgot your password? link on the login page and follow the steps to reset your password.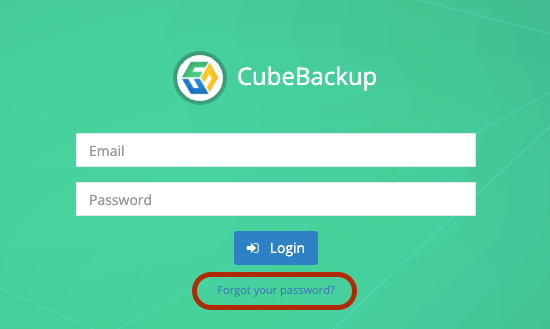 Enter the email address connected with your account, and you will receive a password reset link. If you cannot remember the email address, please proceed with Solution 2 or Solution 3.
Solution 2: List all CubeBackup accounts using a command
If you or one of your users cannot remember an email address connected to your CubeBackup account, it is possible to list all email addresses using the listCubeAccounts command:
cbackup listCubeAccounts
This command will list all the login accounts for the CubeBackup console. You can then log in using that email address, or reset the password for that account using Solution 1.
NOTE: This command requires special privileges.
On Windows, it must be run by an Administrator account.


On Linux, it must be run by the cbuser account. For example:

sudo -u cbuser /opt/cubebackup/bin/cbackup listCubeAccounts 
Solution 3: Set up a new administrator for the console
Perhaps the previous administrator is no longer available, or the email address registered with CubeBackup is no longer accessible. If all else fails, it is always possible to create a new administrator account to access the CubeBackup console:
Remove the file <installation directory>/db/setup.mark on your backup server .

Restart CubeBackup service.

On Linux:

sudo ./cbsrv restart

On Windows:
Enter services.msc in the command line, then in the Services list that pops up, right click the CubeBackup Service entry, and select Restart.

Open the CubeBackup console or reload the page.

The configuration wizard will open. Click Next to skip Step 1 and 2.

In Step 3, you do not need to upload the service account key file. Simply input the original domain name and domain administrator, then click Next all the way to the final step.

In the last step, set a new administrator for your CubeBackup console and use this account to log in. After you have logged in, if necessary, you can go to the SETTINGS > Accounts section in the console and manage all CubeBackup admin accounts. Here, you can, for example, remove the account for the previous administrator.